Modulus is an innovative housing concept which was rooted in the need for emergency housing in the aftermath of natural disaster and armed conflicts.

A Belgian designer by the name of Rudi de Cramer, created a series of different housing modules, all based on the same curved steel profile. Ranging from a smaller model with just one groundfloor level to a duplex model offering living quarters over two fully-fledged floors.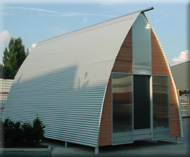 The possibilities are manifold : generally used for emergency housing, structural urbanisation and rehabilitation of slums or shanty towns, the housing modules are perfectly suited to be used as school-buildings, small hospitals, office-buildings and workshops. They even serve as a second home, holiday-residency, poolhouse or garden storage space.